Pre order – the ATTITUDE ADJUSTMENT reissue ; vinyl LP's!
This wont be officially announced till Monday. So if your seeing it now thanks for coming to our website and congratulations on being able to order before everyone else.
PREORDER here . Comes out August 12th!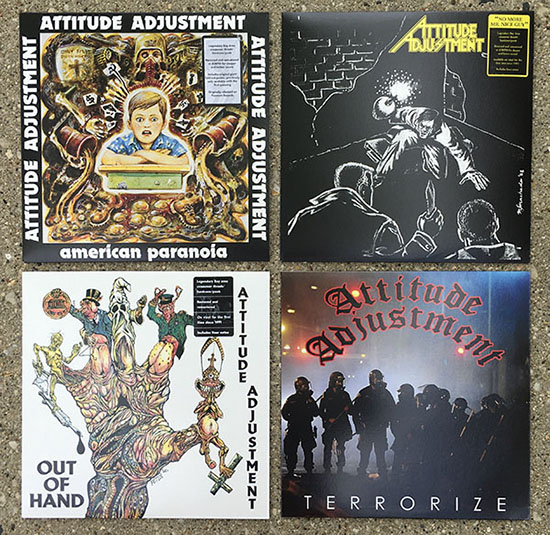 ATTITUDE ADJUSTMENT was one of the original Bay Area hardcore/punk/crossover bands that helped bridge the gap between hardcore and metal and help kickstart the 'crossover' movement. August 12th were reissuing three classic ATTITUDE ADJUSTMENT records. Many which have been out of print on vinyl for a very long time!
Attitude Adjustment – "American Paranoia – Millennium Edition" LP – This is the one that started it all and was originally put out by Pushead on his Pusmort record label. It contains 18 blistering tracks as well as a giant fold out poster that only came with the first pressing when it originally came out!
Attitude Adjustment – "No More Mr. Nice Guy" LP – This was the bands second release. Like the first it packs quit a punch , but is even more intense and in your face! This has been out of print for many years.
Attitude Adjustment – "Out Of Hand" LP – By this time the band had been together for a long time and really learned to hone their craft.They also got a second guitarist which gave them 5 members. All that created not only another killer album , but also one that had an even more thrash sound!
In true Beer City fashion these have all been restored and remastered as well as containing bonus's like liner notes from the band . In the case of "American Paranoia that giant poster we mentioned! For all the details you can even download this booklet that has all the info on each record.
You can pre order these right here. Not only can you pre order them , but were also offering a 'ATTITUDE ADJUSTMENT vinyl grab'. You can get all three of these reissues as well as their newest album 'Terrorize' at a special low price. This offer expires August 12th at midnight central time.
These of coarse will also be available on itunes and similar digital platforms. As well as better record stores everywhere.
Record stores; its exclusively distributed throughout the world by Independent Label Distribution and its partners.